This is our story, our adventures and misadventures of an unforgettable time in our lives. This is my gift for you and for everybody. A testimony of pure, true and selfless love. This is our journey of love, hand to hand together on a beautiful path.
I went on a trip away from home almost 10 years ago, with no specific intention other than explore and discover new places. I must admit that I fell in love with this country and its landscapes. Due to those coincidences in life I managed to stay, and what was an adventure of one year, it ended up being something almost permanent.
The start of something beautiful
In each place a different story, road trips and friends from all over the world that you make along the way. Unforgettable moments remain in my memory and also in the sensor of my camera. Moving to another city from time to time was like starting all over again from scratch. New job, new friends and repeat a little bit the adventures that I lived in other cities. The excitement of discovering new places and the desire to stay longer, achieved the impossible. I stayed!! The excitement of knowing that I could stay for 3 more years was indescribable. I didn't even had a plan to follow. I just knew I wanted to stay.
At first it was not easy. It took me a while to find a job and many times I felt lonely. I had free time and I went out to discover the city. I walked everywhere, I got lost waling around down the streets and I always carried my camera with me. When I got home I hanged out with my flatmates and then in my room I put on some music to keep me company. I think it was a good idea to download an app to chat and meet new people and help me a little bit to cope with that loneliness.
I know it's not the ideal scenario to say that I met someone, but I found you there! We chatted for hours and in no time we became good friends. Our first meeting was in the park. I brought you sushi because I knew you loved it. Some time later you told me that you hadn't eaten anything that day and that the sushi was almost a lucky strike that day. Since then our meetings always had something to eat, and of course a lot of sushi.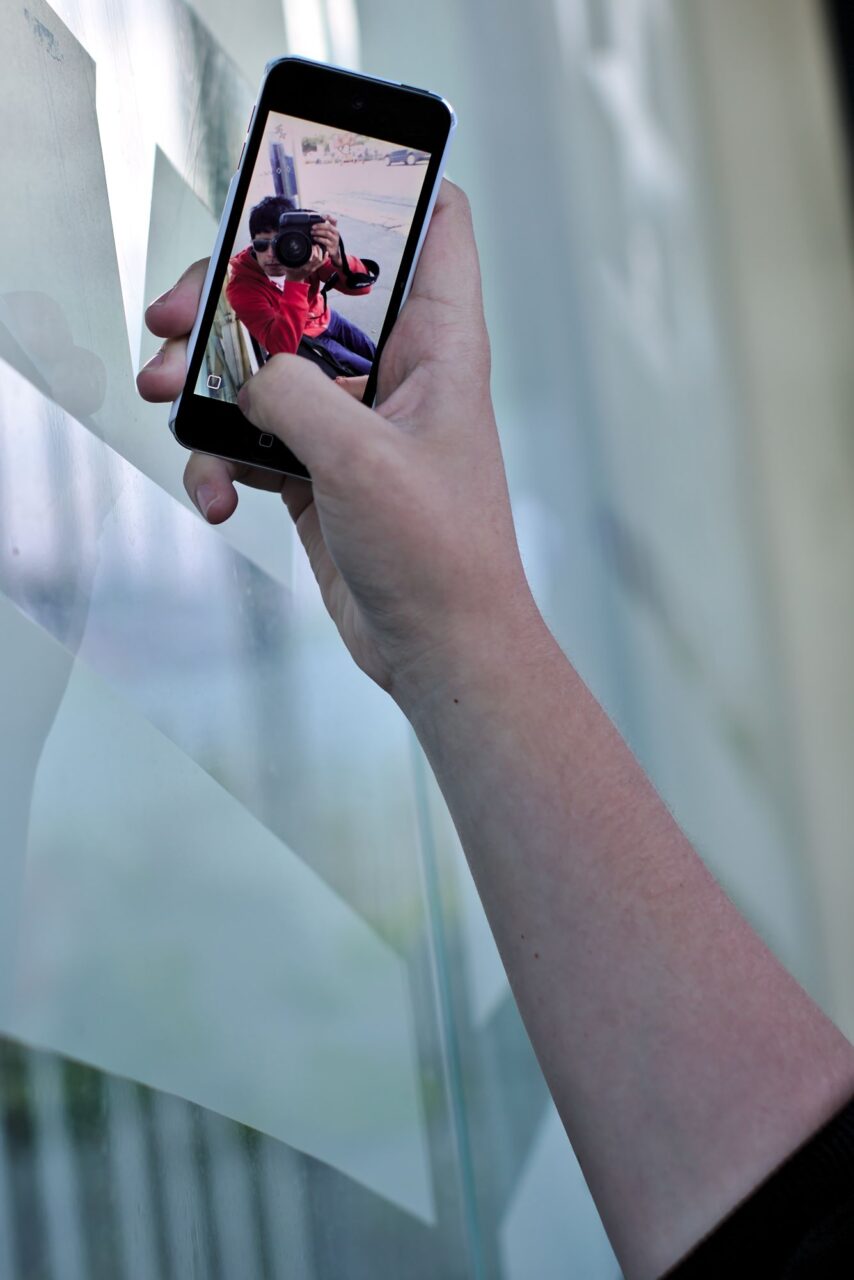 Our friendship grew rapidly and we spent the whole summer going for walks around the city, parks and having dinner together from time to time. Do you remember our first dinner? I loved cooking for you and showing you little by little how to make a very tasty dinner using very common, cheap and easy to find ingredients at the supermarket. We had our favorite places, our perfect spot at the park where we spent hours and hours talking and the time was never enough for us. We said goodbye as usual at the bus stop and we were left with that feeling that we already missed each other and we went back to chat after a while until late at night. What beautiful times were those!
Our friendship was more and more solid and with the passing of the months it became something more beautiful. I think we fell in love each other little by little, but neither of us knew how express that feeling. Our complicity and affection was natural at the sight of anyone. Many times people told us that we made a nice couple. I didn't want to show my emotion every time I heard such a comment, but inside me my heart rejoiced with joy.
Finally we are boyfriends
I was jealous that you were dating other guys and that feeling was mutual when I asked if you wanted to be only with me. I couldn't wipe off the smile from my face when you accepted to be my boyfriend. That night I couldn't sleep thinking about all the beautiful things that were happening in my life. First I had managed to find a work and stay in this wonderful place for longer. Soon on I found you and I felt that we were made for each other. I almost pinched myself to make sure I wasn't dreaming. I remember that a few years ago I had published a photo that described a little bit about that search for that special little person in my life. That special person who fill up your soul and makes you feel like walking on air.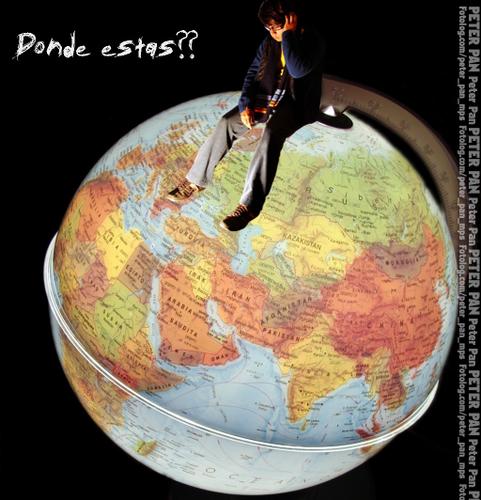 I was looking forward for the arrival of the afternoon so I could see you and you could stay with me all night long. Did I ever tell you how beautiful you looked sleeping next to me? Surely I told you more than once. With you I learned to say what I felt without fear. You taught me many things and I always protected you and took care of you with all my heart.
Our city walks just got a little different. We could now hold hands, even though I felt very insecure about doing that. The truth is that was a nonsense, because nobody tells you anything here, but I brought with me certain fears that gradually disappeared. This is my boyfriend! How nice it was to say that. Me with a boyfriend as cute as you? Who would have imagined it, that I found you on the other side of the world. It seems that that photograph where I was sitting on the world looking for you, was the harbinger of a beautiful story full of love.
An unexpected move out
We had been together for a few months already when the unexpected happened. The house where I was renting was sold. Yes, that same house that saw us together for the first time, where we shared so much time at our little dinners with friends and where we took that funny photo imitating the last supper with our friends.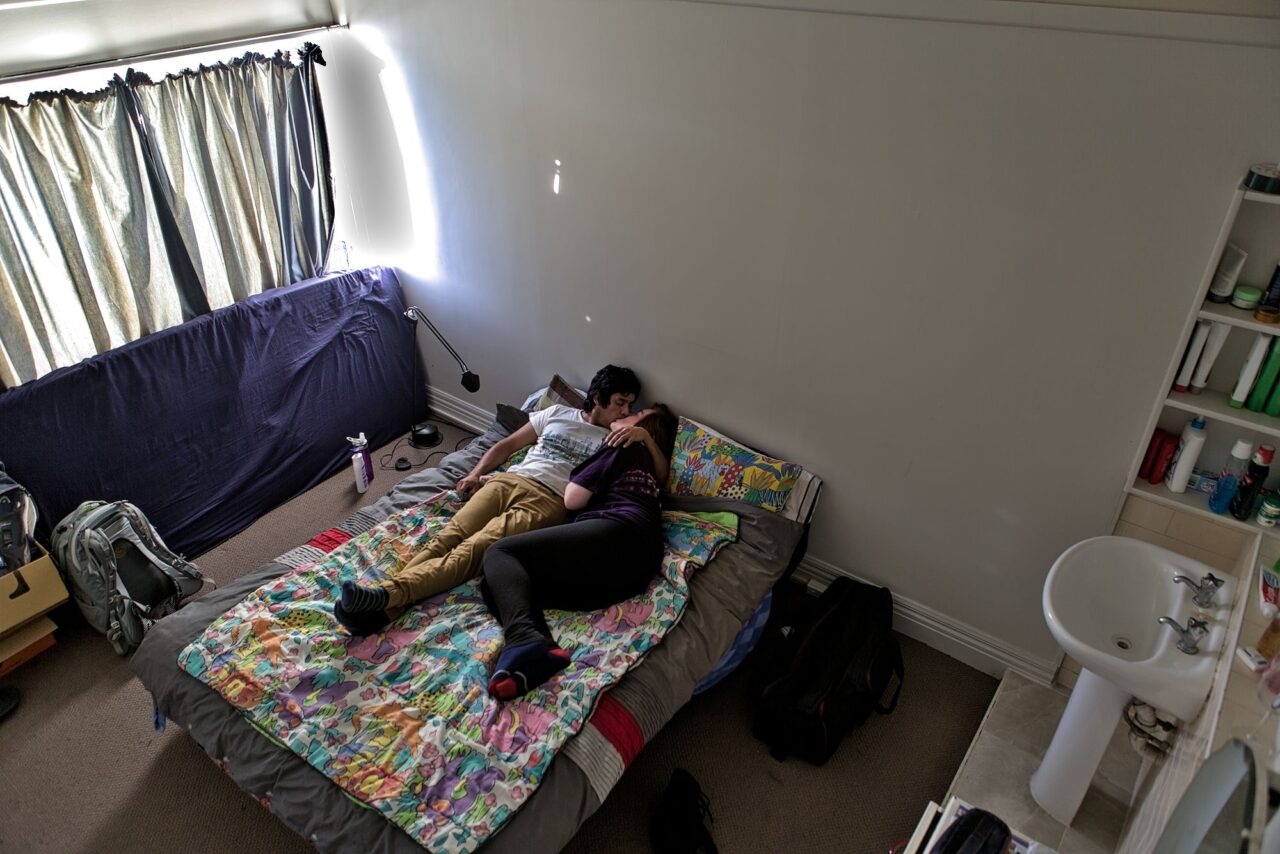 To make things worse, on the date I was supposed to leave the house, my boss told me that he has no work for me anymore. We were entering winter season and the demand for work decreased and I was the new one in the company. There was no choice except to look for a new job and a new place to live in.
It was not easy. I couldn't find anything and even though we had been together for a few months, you decided to not leave me alone and you invited me to live with you at your parent's place. Your kindness and love were so great that it did not fit in your heart. Your parents welcomed me very well. We settle into your room and transform it into our haven of love. The best thing about living together it was that I could see you every day and we could also spend every night in bed having cuddles. I will always be grateful for so much love and help. I felt at home, with a new family, a beautiful boyfriend who love me and also a beautiful cat.
The new family life worked out very well and thanks to that, I got a new and better job that allowed us to travel more often and buy everything that we needed. Our refuge gave us unforgettable moments, like our dinners with Chinese food watching our favorite series (Gilmore Girls or Dr. Who among others) and also gave me a beautiful kitten that always slept by our side on bed. In that place you showed me your secrets, your taste for music and art and little by little you fell in love with photography and my camera gear. We also had enough time so I could teach you Spanish and how to cook some typical dishes from my country.
First road trips
For work reasons I needed to buy a car. The idea it was to buy a small and economical one in gasoline to be able to go to work and go out somewhere. You were the reason why I changed my plans and I ended up buying a van so we could go on road trips down the south. The simple idea of ​​traveling with you and staying over night wherever the night found us moved me deeply. As a baby's van (your baby's van) we baptized our car. As a joke I put some stickers that said "baby on board" and you asked me who is the baby? You are the baby I told you ha ha.
We had everything planned for our first road trip to Nelson to visit our friends and ex-flatmates. For obvious and safety reasons, I took the car to the garage for a full service. Our friend Mad worked there and he told us that we needed to change all 4 tires because it were in bad condition. We had no money for that and most likely we would have to cancel our trip. Just in that moment something wonderful happened.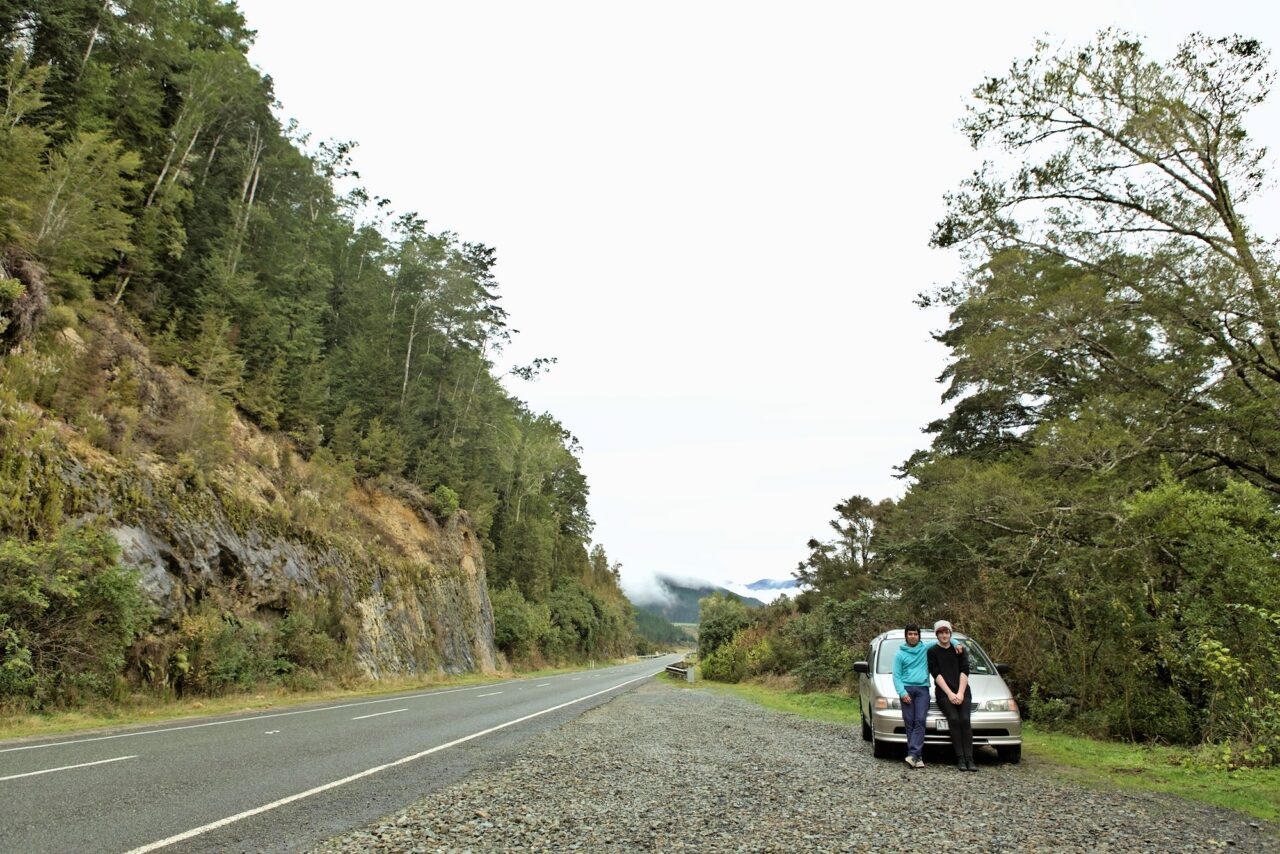 Our friend told us: "I won't let you go to Nelson with these tires. The trip is very long and it would be very dangerous to travel in this condition. I'll change the tires and then you pay me later". I've always said that it is better to have friends than money in life.
Apparently everything indicated that we had to make that road trip and it was beautiful. It took us a little bit to find a place where we could stay over that night and sleep on our "bebito van" by the side of the road before keep driving next morning, but I think we found the right one. Over time, we passed by that spot every time we traveled up north and I always said to you, do you remember the first time we slept over there? I will never forget that place where we stayed our first night of travel.
The reunion with our friends was wonderful. We were so happy to see each other again. First, we went on a walk around the city, then we hit the beach and at the end of the day we had some food by a beautiful lake around the area. The guys knew the area very well. Pol and Guille took us to a safe place where we could spend the rest of the night and be able to sleep on our van.
We led a backpacker life, we toured parks and lakes, forests and cities. At the end of the day we went away from the city to prepare our dinner and of course do some photography and light painting our names before going to sleep.
Life with flatmates and friends
Your parents needed to move to another place and we had to find another house to live in. It was a matter of time until we found the right place and met wonderful people with whom we shared several years living together. Weekend's dinners were a tradition for everyone in the house. The diversity of foods was what we loved. We were around 6 people living in a big house. Everyone from different countries. The celebrations were always very good and the table games lasted for hours, accompanied by laughter and of course many photos. Everyone at home was an emigrant except you, so we all celebrated Christmas together and played secret Santa. Your passion and enthusiasm for Christmas is something I will never forget. You are the joy and the Christmas spirit wherever you go every year in December.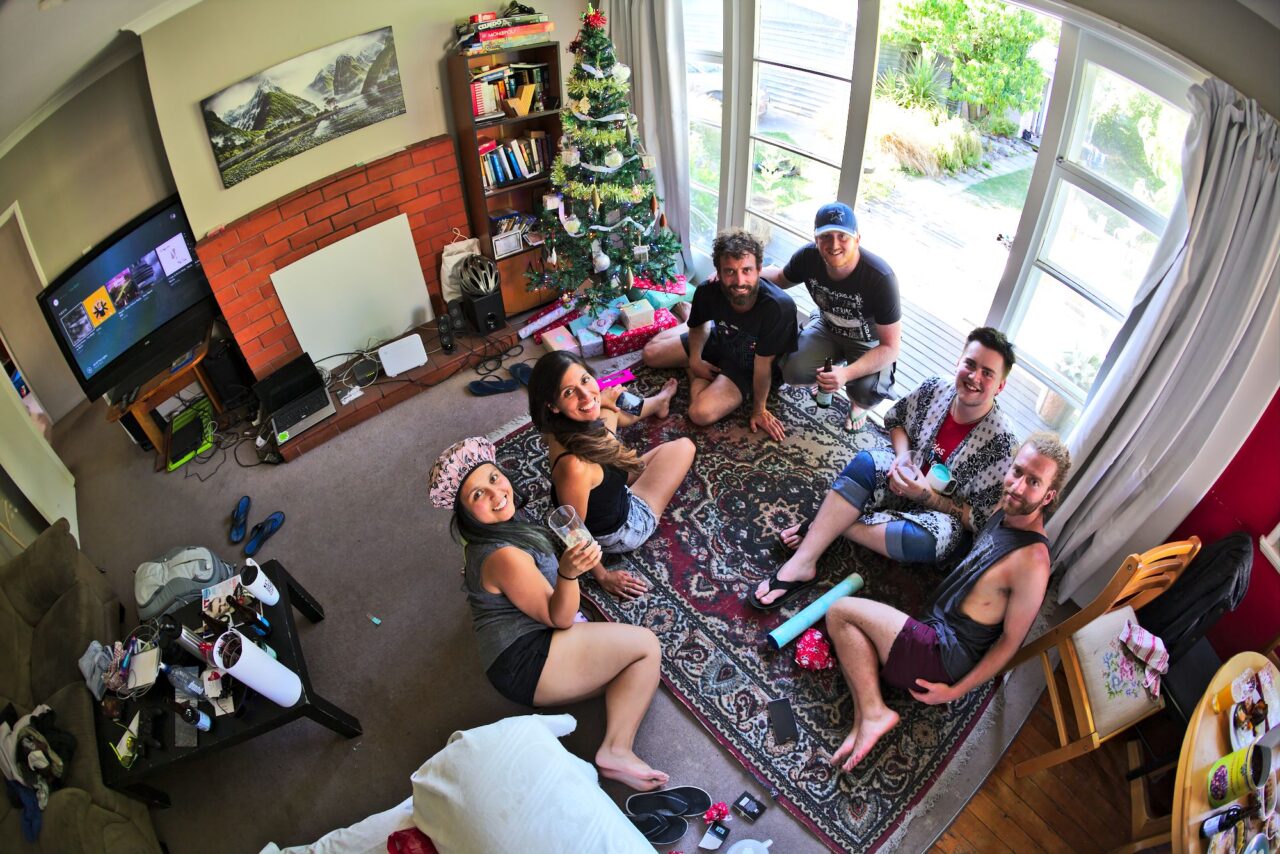 Our friends Cathy and Bryan had a very good eye to chose the right gift for secret Santa. They always looked at those details that pleasantly surprised me. It is a blessing to have them as friends in our life. Do you remember when we were all at home watching the series Orange is the new Black? Sometimes you couldn't resist the temptation to watch an episode before everyone else. I loved your excuses to justify what you had done when we caught you. I think I will always love you for making those excuses that turned out to be very funny at the end and we always ended up discovering what you had done ha ha.
Our flatmates were very good friends of us. We cared and supported each other. We were a big family. The "Suva family" we used to called our selves because of the name of the street where we lived. We had sorrows and joys, we dressed up in costumes to celebrate Halloween and we danced as if the world was going to end.
We had our little garden and orchard. Little by little you developed your passion for flowers and plants and we shared that enthusiasm with our friends at home. I remember very well your joy when you managed to grow your own plants and veggies. You were so happy and you told me in detail everything you had done. I just wanted to hug you and tell you that I love you so much and I was very proud of you.
Our last year there was hard. I was going through a difficult time, I was no longer working in that job that I always wanted and you gave me all the support along with our friends. You had the courage to go out to work while I was taking care of my mental health and trying to find something I really liked. I will never forget your love, affection and dedication for me . It's a mutual thing. I would give everything for you, to keep you safe and always happy.
Finally after several years living in that place, we had to move out. This time to our own house. Just for the two of us. We were so happy for living alone for the first time and to be able to decorate our house as we wish. I always trusted you with your good taste for decoration and allocating the furniture, although I must admit that I was a little bit scared going out shopping with you. Your enthusiasm many times was not compatible with my bank account LOL. We will never forget our meetings and birthday and anniversary celebrations with our friends at home. You left a beautiful memory in the hearts of my friends and I hope you will always be in touch with them.
Travel through South America
It was about time to travel so you could meet my family and my childhood friends. The trip would be a bit tight on time but full of adventures, food and places. The plan was to visit Chile, Peru and Argentina in 4 weeks and then return home. I would have liked to stay longer, but I had to come back to work and you to study. I remember that you were very nervous about meeting my father. For some strange reason you thought he wasn't going to like you. At the end it was just the opposite and everyone welcomed you.
You were at home, at my house, where I grew up and lived with my family. I would have loved to introduced you to my mother, but she is no longer with us. I am sure that she would have sent you a big smile and hug from heaven.
It was your first time traveling on a international trip and you couldn't contain your emotion about it. I think neither did I. Traveling with you is always a pleasure. I must confess that I was a little worried because South America is sometimes not as safe as New Zealand.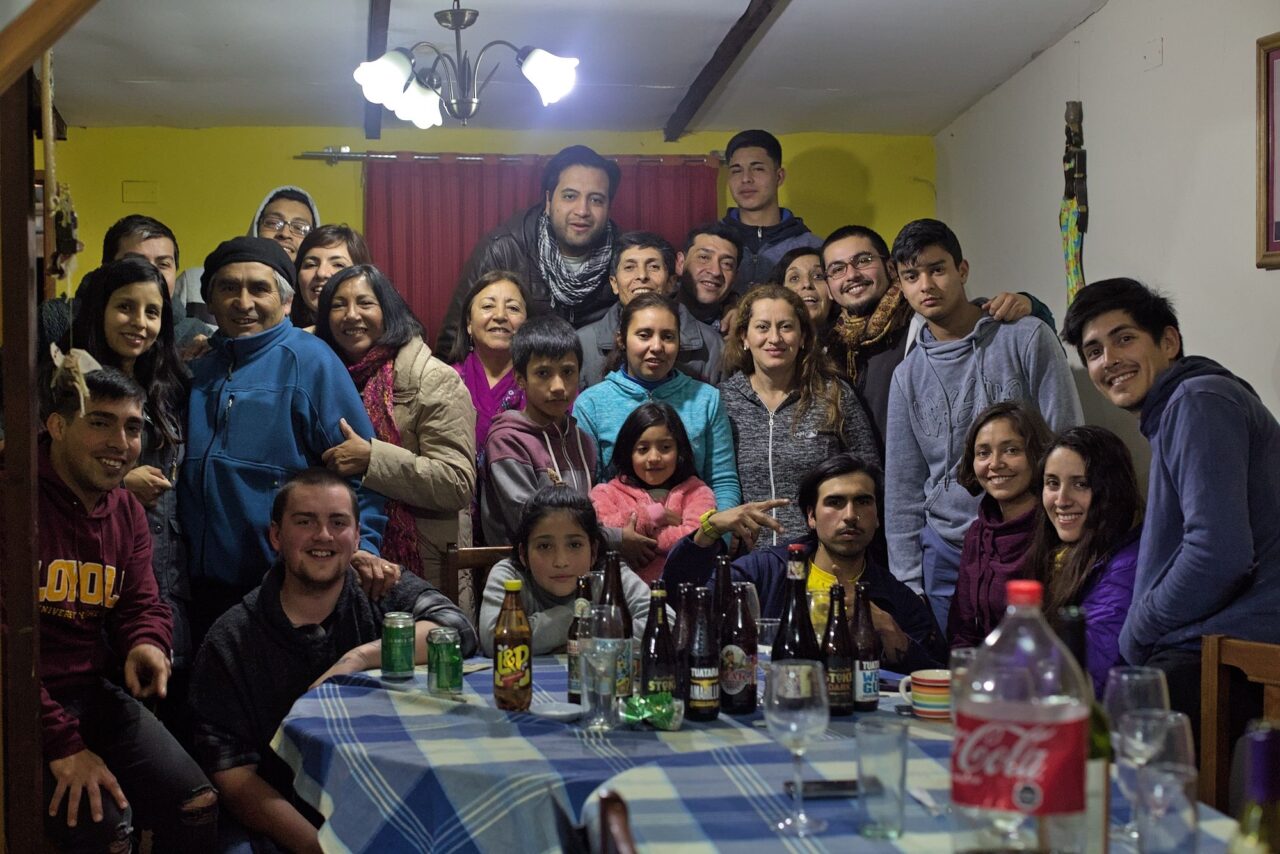 We managed to find a good place at my cousin's apartment and from there we were able to go out and visit different places, cafes and restaurants. You fell in love with the food, especially the most popular and tasty one. Despite being tired from so many flights we had, our energies level remained good. We traveled from the coast to the south. I met up with friends and they liked you a lot. Everything was almost a magical thing that happened. The travel to the south of Chile was almost a gift from the gods. My old friend Alvaro was so happy to see me again and finally meet you. We also had the chance of reunite with our friend "bajito" and spend some time together.
Your passion for knowing the history of places that we visited and especially the one where native people used live, led us to a local tattoo artist to carry on your arm an important symbol from the Mapuche people. Happiness and love is what we had in our heart after leaving the south of Chile.
Next stop was Peru. We met again with our friend Pancho. After landing in Lima we visited several typical places and craft breweries. Peruvian food was one of the attraction of the trip so we ate a lot, maybe too much, but it was inevitable. Peruvian food is absolutely fantastic. We walked around a lot and one day you almost got lost. It was very late at night and I couldn't find you. I think you were not ready to drink Peruvian pisco LOL. I was very worried, but you managed to came back safe and sound. We will never forget our adventures through those beautiful lands.
It was the month of July and we had to celebrate your birthday in Buenos Aires. Life sometimes acts in mysterious ways and we celebrated your birthday at the hotel with one of our ex-flatmates and a couple of friends who live in New Zealand and that time they were visiting Argentina. We had a great time, along with good music, food and of course a good fernet with coke.
It was important for me that you met the rest of my family in Argentina. They liked you very much. They gave us a nice holiday gift and took us to visit various interesting places around the area. We came back with a suitcase full of books. It was impossible not to tho.
Back in Chile, we were getting ready to fly back home to Oceania. Friends and family said goodbye to us with celebrations, meals and gifts. What a beautiful trip. It will remain forever in our hearts.
The last move out
Our life in our own house was not bad at all, but our jobs did not allow us to spend as much time together as we wanted. In addition, your parents wanted to move to a bigger house and live all together again. It had been a long time since we last lived with your parents and I wasn't too happy about moving to live with them after living on our own. At the end there was no other option. We moved into a wonderful house high up on the hills.
After moving out I think it was a good idea living together because unfortunately Covid19 hit our country and I was left without a job. We all supported each other to get ahead of this situation and little by little things got better for us. However, our relationship was not going very well. We argued more often and it was almost always because I didn't feel at home and that was the price of living with your parents. At the end it was like before. We lived at the parents' house and not in our own house even though we shared the expenses of the house. We didn't go out as often as we used to and we didn't had many road trips neither. Time was scarce and our work and routine kept us busy.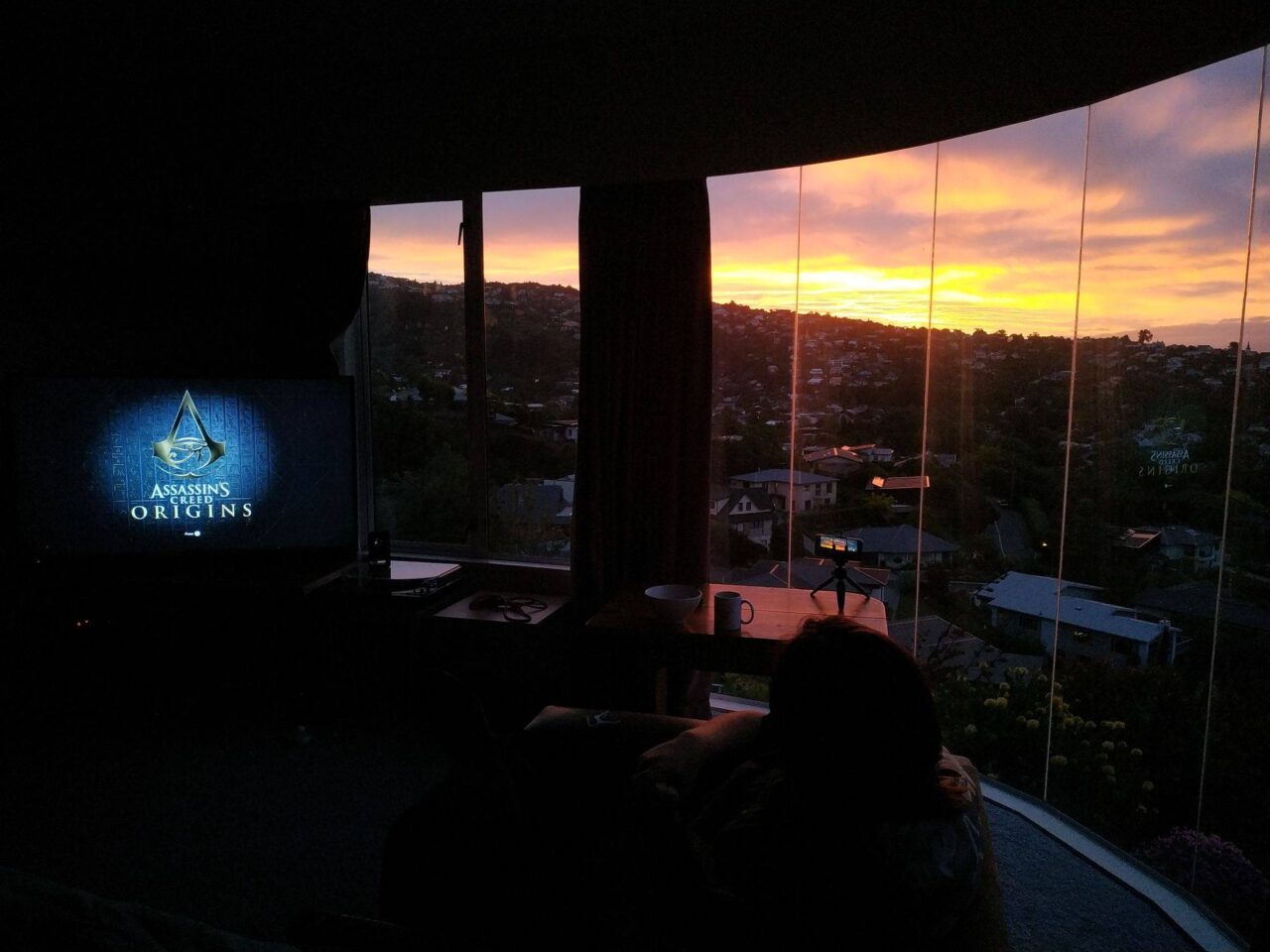 That house was our home for almost 2 years. We enjoyed it well. We had a wonderful view of the city and every day the sunset delighted us with it beauty. When there was a full moon, we could see it from our bed. It was quite romantic if you ask me. We always accompanied our afternoons with a coffee or watched some of our favorite series. One day it occurred to us to do a project together. My boyfriend loves vinyl and he bought several and I gave him few others as a present. We set up a small photography studio in the bedroom and we photographed each of the vinyls. The project finished with a publication of each photo on an Instagram specially created for the records collection. We were happy with the result.
At the end something unexpected happened. You asked me to breakup our relationship and I didn't know how to react. When the unexpected hit you hard, you have no clue how to react. "OK that's fine". That was all I could said in that moment. I didn't even made an effort for rescuing our relationship. I didn't wanted to seem weak even though I was broken inside. Perhaps it was a matter of time before you wanted to be more independent and discover new adventures and friendships without depending so much on me.
It was very painful not being able to hug you every morning. I'm still not used to sleeping alone and I miss our cat a lot. It was even more painful when you moved into the room upstairs and weeks later you started inviting your new friends over. It was the best to get out of there. My exit was difficult. I was not feeling good. My mental health deteriorated it to such a degree that I couldn't see any way out. I know that time heals everything, but always in these cases time passes very slowly. Luckily I had friends who welcomed me in at their places and helped me out. They are the best and I owe them my life. I will always be grateful that you came back to give me a hug and support me during difficult times. I really needed that unconditional support from you.
It's not a goodbye
In one way or another we are always in touch and we'll always be. Once you told me "you will never be out of my life, I have you tattooed on my arm forever" and I carry you deep inside my heart. We know very well that we will always be in contact and that is the beauty of having had such a beautiful, powerful and honest relationship. Your kindness, affection and care for me and others is something I will never forget. Your heart is so big and you are always willing to help whoever needs it. Never change that nice attribute that you have.
Perhaps now our paths will be apart a little bit, but I'm sure that at some point we will meet again. Traveling the world with you and our friends is what I'd love to do, accompanied by our cameras to recount our adventures just as I now try to recount ours. I know that many stories and details are missing, but this short story is a humble attempt to share a beautiful story and to show that love is the most beautiful feeling and there is nothing wrong with it. I would have loved to have given you the ring you always wanted and walked by your side for the rest of my life. Circumstances changed and today we don't say goodbye to each other, but see you soon.
Today is my birthday. I won't have a cake made by you, like the one that you and Giselle made once for me. That one about the starry night of Vincent van Gogh and Dr. Who. That was the most beautiful and meaningful birthday cake that someone ever made for me on the most important day of my life.
Today I have returned to our spot at the park where we had our first date. That place where we sat next to that tree and felt that time passed slowly. Where for the first time I could see your beautiful face and smile and I hold your hand. Where we were happy and we forgot about everything. This time I return alone to watch the sunset in those vast gardens full of green.
I'm sure that that tree still remembers our voices and laughter. I will stop by that place from time to time to talk to the little birds and tell them how happy we were and how much we loved each other. I'll keep the most beautiful memory of our journey of love. I am very proud of you and I wish you the best. Be happy and never lose your beautiful smile. You'll be in my heart forever. I hope you never forget this romantic Latino boy who dedicated you love songs and gave you a bouquet of flowers.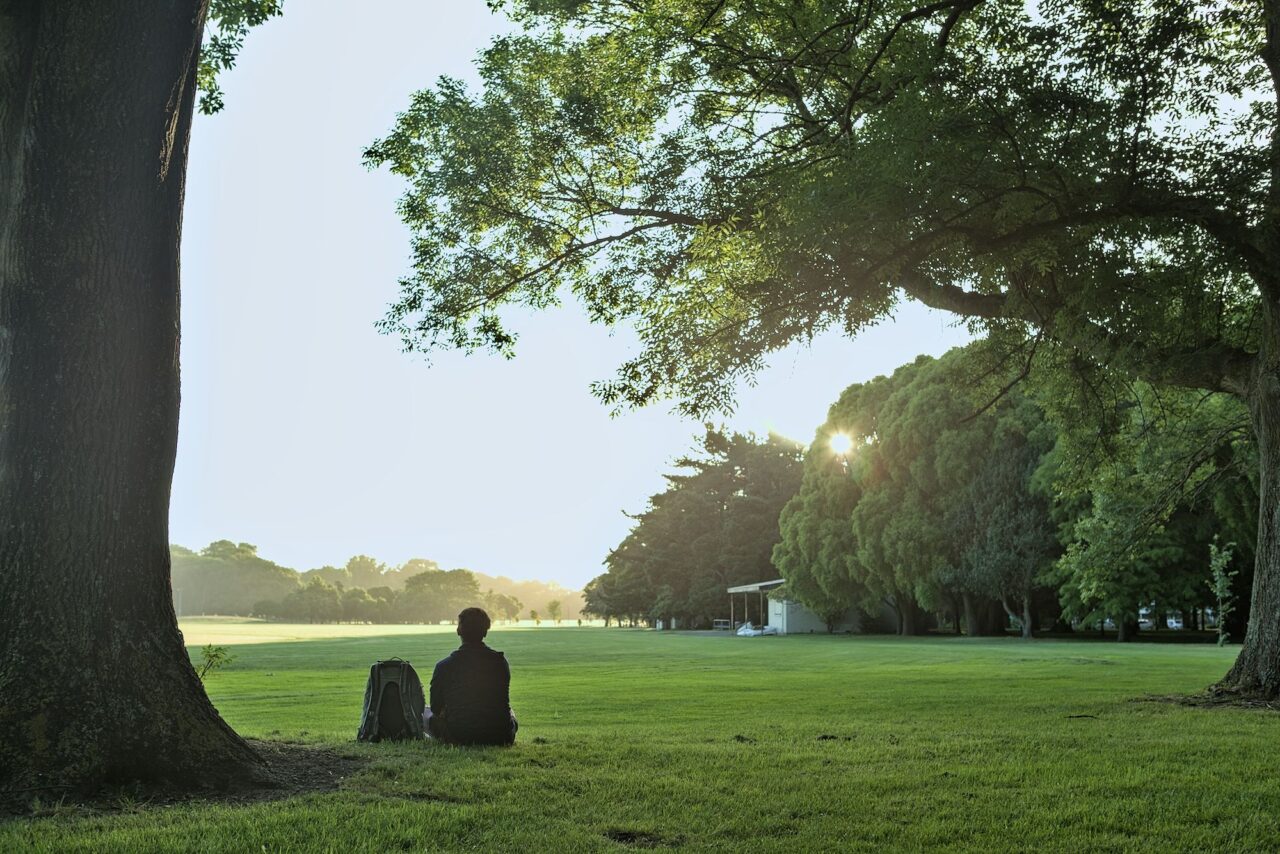 6 years of love in photos