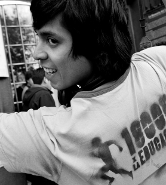 Kia ora, I'm Peter, a photographer based in Christchurch, with a passion for travel and adventures. My work is about stories and emotions, people and places. I try to capture that unique moment and bring viewers into the image emotionally.
I like to meet and learn about new people, hearing stories and discovering places. I spend most of the time with friends, reading and studying. My passion for photography began at an early age during my high school years. While I was studying computer science at uni, I had a deep connection with photography and that was a very decisive moment in my life. After finishing my degree in computer science, I decide to formally study photography at uni and merge my knowledge into a passion for photography and web development.
I enjoy what I do and try to transfer that feeling to my work. I've had the fortune of being part of very interesting projects, meeting amazing people, gaining recognition and doing what I love.
Awards and recognition
Some photos published in the media