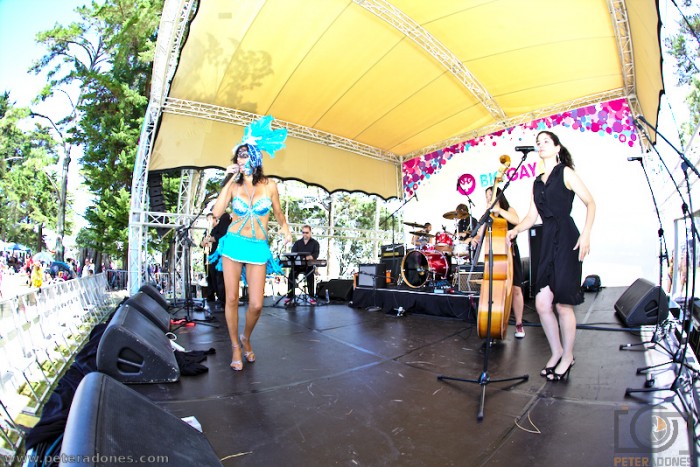 Big Gay Out is the name of a non-profit LGBT fair day in Auckland, New Zealand. The Big Gay Out has been running since the 1990s and is usually organised and run by the New Zealand AIDS Foundation. The event's title is based on the music festival Big Day Out. In 2012, the current Queen of Vinegar Hill, New Zealand attended the Big Gay Out to promote the camp at the end of the year. In this fair Mr Gay New Zealand World is also chosen. In the United Kingdom, Faceparty's Big Gay Out was a live popular music event, dance party and fun fair organized by the profile and community website Faceparty for the LGBT community, in London. It was held twice, in 2004 as part of London's Gay Pride, and again in 2005 separately from London Pride, both times in Finsbury Park. There was no Big Gay Out in 2006 due to the Europride celebrations, however a third event was planned for 2007, but never materialized. A portion of the profits made went to charities including Stonewall.
Source: https://en.wikipedia.org/wiki/Big_Gay_Out
About Alex
Singer, Songwriter, Dancer & Actress. Ranging from Latin American Styles to Contemporary and Jazz.
Chilean Born, Alexandra Abud Held, started her dance knowledge and performing by the age of 8, studying Arabic Folkloric Dance.
Her father had a big influence on her music styles, as he introduced her to Jazz & Bossa Nova since very young, also participating in school choirs.
A few years later in life, she started her studies in Acting and Singing at Escuela De Artes Vocales in Santiago, Chile, being the youngest one of the class, and already performing in different stages, with her own music group "Coro Santa Catlina" and Duos.
More info at http://www.allemusica.com